Beam Precast Boundary Wall​
A beam precast boundary wall, also known as an H-column precast concrete boundary wall,used in the bounadry walls. Its main purpose in Pakistan is to define boundaries and secure properties and land.
These types of walls are stronger than normal precast walls because the beams are thicker than the normal precast slab. It increases the durability of the wall as well.
Additionally, in a beam precast boundary wall, we combine slabs, beams, H columns, and strips to create an assembled and strong precast boundary wall.
Our locations
A precast beam boundary wall is sufficient and durable for long-term security in Pakistan. You can get precast services in places like 
Faisalabad

Lahore
Multan 
All cities in Punjab, Pakistan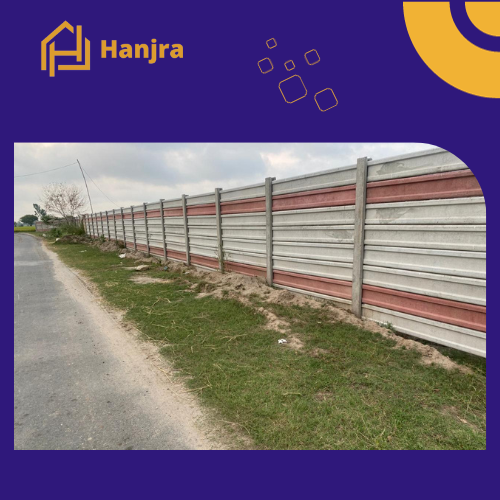 The column supports the wall that provides the supports for the beams and helps them to assemble in the form of a strong boundary wall.
Additionally, concrete beam boundary walls vary in size depending on the site and your demands.
These precast beam boundary walls can have less effect on weather and storms. They are grounded so firmly that they cannot easily fall into a strong storm.
Our beam wall weights are balanced in a way that provides safety and security to the customer, as well as resistance to the forces applied to them.
At Hanjra Construction, we monitor all the materials and processes while creating the beam for your boundary wall. We test the beam using various methods to ensure its strength before we deliver it to the customer. You can trust our products. We allow you to visit and check the quality standards of the beam.
Contact Hanjra Construction to build quality beam precast boundary walls for security and an affordable way to define the boundaries of your agricultural and residential land. We believe that you will get the best deals at Hanjra Construction. Not only that, you will get quality material that will last a long time.